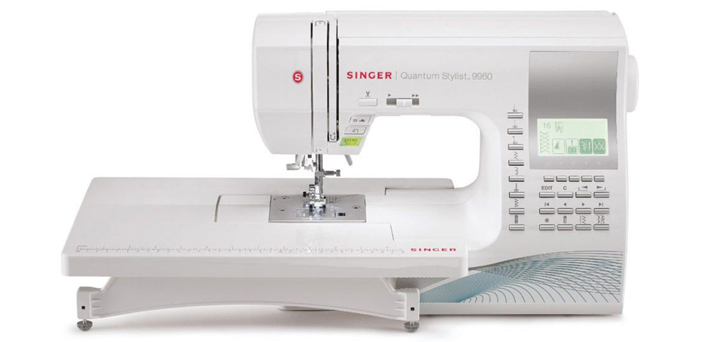 Singer is well known and one of the oldest manufacturers of sewing machines. It has credibility in the market for providing quality products. Following are Best Singer Sewing Machines list of top sewing machine that have been selected for you by singer.
Best Singer Sewing Machines
Review of sewing machine brands makes it one of the top most choices. This singer9960 has all things needed for being a super cool sewing machine. It has adjustable binder foot so that you can make beautiful designs. Here bobbin is adjusted from top which makes ribbon insertion much easy. Due to its clear cover you can continuously monitor supply of thread to bobbin.  Digital information is visible which includes stitching information such as width, length etc. Buttonhole sewing with this machine is just 1 step simple process that provides details every time.
There are 13 built-in automatic buttonholes. Buttonholes sides are sewn in the right way for preventing formation of gaps in the stitching process and fabric distortion. With a variety of about 600 stitches, you can choose any one for getting perfect stitch as per your designing needs. Free accessories with this machine include 18 presser-feet. This machine will increase creative possibilities for you.It's your choice to select from these Best singer Sewing Machines. Also read the full singer 9960 review here.
Pros
This machine performs heavy duty easily
It is time saving and provides good value for money spent
It works through thick fabrics easily
You can easily control speed of presser foot
Cons
Care must be taken in handling the machine and to avoid any problems it
Customer service is not satisfactory
It does not support fancy or too big fabrics
This one is another top industrial sewing machine brands Singer 7258 comes with easy threading and automatic threader. It takes just seconds to thread the machine. There are also threading instruction printed upon sewing machine. Bobbin is loaded from top which makes bobbin insertion an easy task. There is a clear cover to monitor supply of thread to bobbin. Workspace is illuminated through LED light to provide optimal view. This bulb has long lasting life and it stays cool irrespective of duration of its operation. There are 7 automatic perfect sized buttonholes that are all built-in. using these buttonholes you can perfectly create buttonholes each time. 6 button holes are 1 step styled. There is an additional buttonhole that allows creation of button holes with infinity. Needle is programmable up & down. You can adjust it at the highest position which makes fabric removal easy.
Down sided position of needle is ideal for quilting, appliquéing and pivoting. Foot control prevents unnecessary working of machine. When you need to work, just remove the foot controller and machine will start sewing. Speed is controllable due to presence of speed-control lever which allows you to set speed to a desired level. Internal heavy-duty metal frame keeps machine still during sewing so there will be no skipped stitches. This machine is perfect choice for beginners to get précised stitching. It is amazing with 100 built in stitches for different types f sewing like decorative sewing, home, crafts, heirloom, quilting and fashion sewing etc. all sewing needs are covered in this machine.For more information read the full singer 7258 review here.
Pros
It ensures skipping free sewing experience each time
Comes with 25 years warranty
Singer also provide online support at its official site
Support through social media allows connecting with experts and seeking tips & tricks
Incredibly detailed instruction manual
Smooth sewing
Quite operations, not noisy
Easy to operate
Speed control slider to control speed without foot pedal
Really pretty stitches
Multiple presser feet
Super easy bobbin
Cons
Care must be taken in handling the machine and to avoid any problems it
Sometime thread of this machine gets too much tight especially upper thread.
This breaks when fabric is pulled.
This can be handled by gently moving the presser foot back and forth to lose the tightened thread.
Last one in our list of top of the line sewing machine brands super cool sewing machines is singer 4411. It comes with heavy duty metal-frame, extra high sewing speed, powerful motor and stainless-steel bedplate. Using this machine you can easily sew anything you want to. Whether you have started new project or are making regular garments alterations, this heavy duty is much easily usable & versatile machine. Needle threader is automatic, which is the biggest time saving thing for sewing purposes.
Machine can run at speed of 1,100 stitches each minute so you can quickly convert your ideas to reality. Its bobbin is loaded from the top and can be clearly viewed through cover. Motor is 60% stronger. Bed plate is of stainless steel material which provides the way for easy and even sewing. Internal skeleton is of heavy-duty metal which holds and aligns mechanisms perfectly and gives skipping free sewing experience with overall durability. You will be happy to use this machine for years. Pressure controlling presser foot is adjustable which helps to sew heavy and light weight fabrics easily without any worry.
Buttonhole is four steps automatic through which you can make beautiful button holes. There are accessories provided in its accessory tray. These accessories include all purpose & zipper foot, instruction manual, foot control, power cord, soft side dust cover, spool-pin felt, screwdriver, bobbins, needles, quilting guide, seam ripper, button-sewing foot, buttonhole foot etc.You can also read full singer 4411 review here.
Pros
You can make beautiful items that will lead even boutique quality fabrics
It is sturdy & durable
Easy to operate
Portable and easy to move
Come with instruction manual
Due to metal structure, it lasts longer for extended years
Peddle is very sensitive & works well
Cons
Instruction manual is not very clear for beginners and they may find it a little complicated.
Singer 2259 machine for sewing is the traditional singer sewing machine that has all the features for allowing you to take a new start for carrying on your sewing hobby. There is an automatic 4 step buttonhole with easy stitch selection. This sewing machine`s pressure feet is with snap-on. It is very easy to thread this machine and it can be done quite quickly. You need to follow arrows on machine for easy threading. Stitch selection in this Sewing machine 2259 is also much easy.
With adjustable length of stitches and zigzag width with differentiating 19 in-built stitches are its advantages. Buttonhole is 4-step automatic just like its bobbin winding. Metal frame is heavy duty whereas foot lifter comes with extra higher pressure. Feed-dog system has 4 segments with multiple positions for needle. Tension is easy to adjust. Pressure can be controlled for the presser foot that is automatic.You can also read the full singer 2259 review here.
Pros
Sewing 2259 is a time saving machine with its easy and quick threading Stitch length is adjustable and width being zigzag allows customization of stitches
Multiple stitches wit buttonhole automatic steps provide endless possibilities
This machine for sewing allows you to create creative sewing products
This durable sewing Singer machine 2259 comes with warranty of 25 years
Cons
Some customers complained about bobbin trouble. This must be problem with a particular item and seeing the manual might help.
CONCLUSION
Multiple stitches, automatic threading and easy use make it an important sewing machine.
Singer sewing 3232 machine is a perfect machine that is good for those who have just started their sewing practice. There are many features that make Singer sewing machine 3232 an adorable choice for carrying on your sewing practices. Automatic needle threading feature, easy threading and easy to adjust width and length of stitch are all amazing attributes that will make you love it. If you want to enjoy frustration free sewing, go for it. 32 is quite a large number for a beginner to find stitching designs.
Width is also adjustable. Easy setup and operating come with use of one step button-hole. Metal frame is heavy duty to give durable functioning. You will be able to create fashionable stuff along with various types of creative projects being easy and fun to create. Accessories like foot of various types, bobbins, screwdriver, dust cover, darning plate and instruction manual are included in the packaging.You can also read the full singer 3232 review here.
Pros
Fashionable Singer 3232 has the ability to work on various types of clothing including leather
It can hem pants and can also fix drapes
Easy to operate
Comes with complete guideline in the form of manual
Durable and long lasting
Cons
Accessing bobble sometime creates trouble
CONCLUSION
For beginners, this al-rounder sewing machine is the write sewing machine that is convenient and highly recommended.
Singer 1304 is the system that can be threaded very easily. You don't have to trouble yourself much for handling this as instruction are on the machine. Stitch selection is simple for changing stitches with just one single step. There are 6 built-in stitches including straight, buttonhole, scallop, blind hem, satin and zigzag. Free accessories are in the pack for machine including three presser feet. Free arm, automatic bobbin and metal frame being heavy duty give it durability.
This Singer 1304 sewing machine is not suitable for countries that do not support 110 volt. This little portable sewing machine Singer is the quality package that is perfect for travelling, taking to classes and also for general sewing tasks at home. Singer 1304 reviews indicate that whether you are going to use it as a hobby or for starting sewing profession, it is a good choice. You can also read the full singer 1304 review here.
Pros
Easy to select stitches
Automatic adjustment of thread tension
There is a LED light for lighting sewing space
Automatic winding system for bobbin
Extra high foot lifter
Wider stitching width
Great speed of 750 stitches in one minute
Singer 1304 machine for sewing comes with warranty of 25 years
Cons
Customers seem to be pretty satisfied with this machine as no major complain has yet been observed.
CONCLUSION
This is a little but nice machine that is great starting device for beginners who are not looking for bells & whistles in the form of high end machines.
Singer 4423 sewing machine is the machine with variety first of that is 6 basic and 23 other built-in stitches. There are 4 stitches for stretch clothing. If you want decorative stitches there are 12 with one stitch fir buttonhole. Bobbin is top dropping and needle threader works automatic to make you feel satisfied and calm. With huge speed of 1,100 per minute stitches to go its motor is 60% stronger to ensure long lasting. Internal structure of Singer 4423 machine is also quite strong with its bed plate that is stainless steel and heavy-duty metal frame. Buttonhole process is automatic that allows making beautiful buttonholes. High speed machine to work like you are a professional even in the starting days of your sewing hobby it gives faster results with quality garments resultantly. You can read full Singer 4423 review here.
PROS
Large numbers of per minute stitching speed
Stronger motor
Singer sewing machine 4423 gives skip free stitching by keeping
the cloth still during the process
Clear cover view due to dropping bobbin
Multiple needle positions
Sewing machine 4423 comes with warranty of 25 years
CONS
Directions for use of this machine are not very clear and need improvement.
CONCLUSION
This machine has everything for fulfilling basic sewing needs of all persons.
Singer sewing machine 5400 comes with very easy system of threading due to its automatic needle threading. Affordable sewing machine is the time saving feature. Stitch length is easy to adjust with adjustment for width to give precise sewing function. There are 60 stitches that are all built-in with 8 essential and 8 for stretch stitching. All these stitches of this top quality sewing design give your fabric a new appearance. Decorative stitches are also part of its functions that help in creating amazing new designs each time you decide to use it. Buttonholes are also automatic that make you feel free about how to do buttonhole. Metal frame is durable and gives skip free sewing for all type of cloths. You need 110 volt for operating this machine and hence it is not suitable for countries that do not support such voltage.You can read full singer 5400 review here.
Pros
Large numbers of per minute stitching speed
Stronger motor
Singer sewing machine 4423 gives skip free stitching by keeping
the cloth still during the process
Clear cover view due to dropping bobbin
Multiple needle positions
Sewing machine 4423 comes with warranty of 25 years
Cons
Directions for use of this machine are not very clear and need improvement.
CONCLUSION
Singer sewing machine 5400 for you is a complete package type of sewing machine that is good for those who want to get good stitching results.
This 4432 singer machine for sewing is perfect stainless steel item to get going on your sewing mission. It comes with extra operating speed of 1,100 per minute stitching to give faster results with professional speed. Machine is heavy duty and remains stable during sewing. Fabric feeding to the Singer machine 4432 is smooth due to its steel bed plate that gives even sewing. There are 32 stitches with 6 essential, 18 decorative, 7 stretch, 1 step for buttonhole and one fully automatic one. It is a time saving machine due to its needle threader being automatic.
Pros
Easy to setup and operate
Strong motor
Faster stitching per minute that completes task within less time
Clear viewing cover
Multiple needle positions
This durable working machine for sewing comes with warranty of 25 years
Cons
Some customers complain that machine jammed or broke. Care must be taken while handling and this may be an inventory fault that is replacable.
CONCLUSION
This machine form singer is good for those who want to have versatility intheir stitches and love to create new products.
EDITOR`S CHOICE
All of the above 3 top sewing machine brands 2023 singer machines are one of the finest choices that you can make while purchasing a sewing machines. One of these which is the editors` choice is the best sewing machine from all. it carries features which even lead the other two mentioned above. This is Singer 7258 which has automatic threader, top down bobbin, illuminated workplace, more automatic button holes than other singer machines and more stitches than other singer sewing machines. There is a speed controller and multiple presser feet are also a perk.