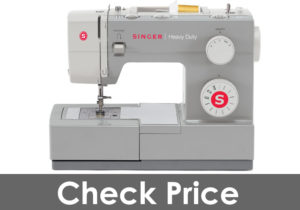 Read Singer 4411 review and complete insights with honest benchmarks.
Buying a sewing machine takes a lot of research. There are a lot of factors to consider before buying one. You should start by the most reliable sewing machine and to do so, you will have to read sewing machine reviews. These reviews provide the detail about best sewing machine on the market. The best way to choose is to make sewing machine comparisons. Once you compare or read reviews, you will get the details such as specifications, price, performance, etc. Among hundreds of sewing machines, one of the most reliable is the Singer 4411 heavy duty sewing machine. There are dozens of singer 4411 heavy duty sewing machine reviews; this review covers all aspects which are necessary to let you know if it is the right choice. Here is a detailed Singer 4411 review.
Technical Specifications
Built-in stitches: 11 built-in stitches
Sewing speed: 1100 stitches per minute
Style of sewing: Essential, decorative, and stretch
Weight: 14 pounds
Frame: heavy duty metal frame
Built-in carry handle
See-through bobbin
3-needle position
Thread Cutter: Manual
Preset feet: four preset feet pressers
Drop feed leveler
Mount: Yes, you can mount it on a sewing cabinet
Tension setting: Automatic
Design and features
The Singer 4411 heavy duty sewing machine has an ergonomic design and build. You will find it easy to use. It also has less weight which makes it portable. You can now place it on a table and use it quite comfortably. The design feature which makes this machine stand apart is the heavy-duty metal frame. Although it does not have many features and functions like other models from Singer, it is great for heavy-duty tasks. You can throw anything, and it will do it easily. No matter how tough and long stitch you want to make, this machine will do it for you. It also has strong and a durable stainless steel bedplate. It is not only durable but also allows the fabric to stitch smoothly.
The design is quite versatile too. This sewing machine is a great choice if you want to start a brand new project or need alterations to an existing piece of cloth. The needle settings and the bobbin make it easy to use for anyone. You do not need to be an expert to use the machine. The working mechanism is easy to understand. Every part of the machine has a label. With the help of labeling, even a layperson can understand how to use it. Also, the manual is quite easy to understand. It is the reason Singer 4411 is an excellent choice for home use. It is the best basic sewing machine you will get on the market.
The Singer 4411 also has onboard storage. You can now store your tools i.e. needles, screwdrivers, and other sewing tools easily. You do not have to keep an extra toolbox for this purpose.
The overall design is great it also looks beautiful and sturdy. If you are looking to buy a sewing machine which is easy to use and easy to handle, this one is a great choice. Maintenance of this machine is easy as it does not have any extra parts to clean.
Performance
There are many benefits of Singer 4411. As the name suggests, it is heavy duty. The Singer 4411 has an extremely powerful motor. This motor ensures that you get speedy stitches in no time at all. With the singer 4411 heavy duty extra-high sewing speed motor you will get 1100 stitches per minute. It beats many other models of sewing machines. It is a great choice if you need to prepare clothes for a day. The sewing professionals like this type of heavy-duty machines. With the 1100 stitches per minute, it is a great choice for your business too. If you view a sewing machine comparison chart, you will notice that the Singer 4411 is 30% faster than others.
Another great feature which increases the performance is the automatic thread tension settings. You do not have it worry about the threat tension; the machine will adjust it automatically based on the type of cloth and stitch setting.
The machine also comes with a lot of accessories. You can use these accessories to maintain the machine and allow it to work smoothly even after heavy use. It comes with an extra seam ripper, brush, needles, three extra bobbins, L-screwdriver, an extra spool pin, a soft dust cover, a felt disc and a quilting guide.
There are four preset feet on the machine. It has the all-purpose foot for almost all kinds of sewing projects. There is the buttonhole foot which is for adding slots for ribbons and buttonholes etc. The zipper foot is for piping, cording, adding zippers, etc. The machine also has a special button sewing foot. With this, you can now add buttons to your clothing in no time at all. All these preset feet allow faster and accurate sewing.
Like other models, Singer gives three warranties for various parts for this model too. There is a 25-year limited warranty on the machine head. The motor, wiring, switches, speed control, and other components have a 5-uear warranty, and the bulbs, rings, belts have a one-year warranty.All these above features makes it one of the best singer sewing machine of 2019.
Problems of Singer 4411
There are a few problems of Singer 4411 which you should know. For example, it is a bit loud. You may like the working and the speed, but it also makes more sound which may be irritating. The machine is capable of a twin needle, but the twin needle is not in the accessories. You will have to buy it to use it.
If you are looking for a modern sewing machine, the Singer 4411 is a great choice. It may not be a digital machine, but it performs well. It sews the thickest of the fabrics without any difficulty. No matter you need a straight stitch, or a long stitch, the machine will not let you down. The verdict is that you should buy this machine if you need heavy quilters, sewing thick fabrics, need long stitches, and piercers.