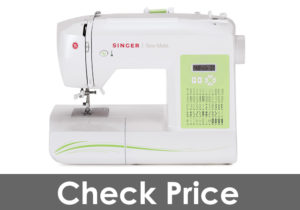 Read Singer 5400 review and complete insights with honest benchmarks.
There are two basic divisions of sewing machines; the traditional ones and the electronic modern ones. It is only understandable that you want to get your hands on a modern electronic machine to keep up with the evolving technology and what could be a better choice to make than the Singer 5400 sewing machine! For users on all levels – this is the electronic stitching machine that you want to take home.If you want to see more range of sewing machines then see our buying guide of best sewing machine of 2019 to buy.
Features of Singer 5400 sewing machine
A quick overview of the highlight features of the Singer 5400 sewing machine makes it pretty evident to the customers that this product is definitely worthy of every penny you pay for it! It is the perfect combination of functionality and design and is very affordable as well – this sums up all that one could ask for!
The design of this machine is very modern and technologized. It is certainly a very good-looking electrical sewing machine trending these days.
The weight of this machine is said to be around 15 pounds which are not very lightweight but good enough to be handled on daily basis. However, the average weight surely does give it stability.
The price of this Singer 5400 machine falls in a very low budget category which favors the users.
Pros
This machine has a very powerful motor that makes it work through all fabric types; even the thickest.
It comes with very easy and simple basic functions.
You get a complete written user manual and a DVD for instructions which make it very easy to use the machine.
This machine does not create any unwanted noise or disturbance whilst running.
It is very reasonably priced and comes in a very modest price range.
Multiple user modes are available for the users to choose from in accordance to their expertise levels.
Cons
The customer services for this product range are not up-to-the-mark. So in the case of assistance, you might have to deal with a little difficulty.
This machine comes with a very low-quality needle fit into the machine. As a result, the users complain of the needle breaking within a few days of usage and needs frequent replacement.
The thread is very static and fails to work smoothly. Moreover, it tangles during use using which means you have to stop repeatedly and fix it over and over.
If we look at the bigger picture, the Singer 5400 sewing machine is definitely an ideal choice for users at all levels. It has all the basic features that can be helpful for the beginners and intermediate learners whilst the advanced settings are also possible to facilitate the expert users. At a very affordable price range and great functionality buttons, this machine by Singer is the best choice that users can make this season. It has all the capacities that can get all types of stitching and sewing jobs done to perfection. Moreover, the basic functions make it very easy for the users to quickly learn. You can also check other
best singer sewing machines