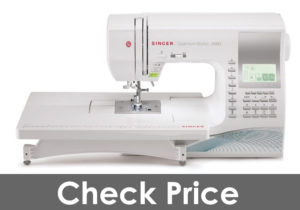 Read Singer 9960 review and complete insights with honest benchmarks.
When it comes to buying a sewing machine, you will have a lot of choices. Almost every brand tries to come up with the latest technology and dozens of sewing features. Among many, Singer is an excellent brand, and it has been manufacturing state of the art sewing machines for many years now. One of Singer's highest rated sewing machines is the Singer Quantum Stylist 9960. It is one of the best sewing machines on the market. So, if you are wondering why Singer 9960 Quantum Stylist Machine is one of Best Sewing Machines for 2019, you should read this review.
Technical Specifications
Built-in stitches: 600 built-in stitches
Styles of sewing: 13 styles of fully automatic one-step buttonholes
Type: digital sewing machine with five different fonts
Stitching: it has stitch editing capabilities which allow you to stitch the way you want.
Thread cutter: One-touch automatic thread cutter
Speed: Electronic auto pilot and speed control
Power: 110-volt machine
Mount: no mount available
Weight: Approx. 25 pounds.
Design and features
The design of the sewing machine is good, but it is not portable. It may be one of the singer quantum stylist 9960 problems which you may face. But that doesn't mean you should not buy it. This one is an excellent digital sewing machine. The overall design allows you to use it easily. Even if you are not an expert, you will learn it quickly.
The machine weighs 25 pounds. The machine has a 6.5-inch throat. It may be good for average sewing, but you may not do large projects. The machine also has an LCD screen. You will love to find out that the screen will display the information about the stitch patterns. It gives a great idea about the stitching and allows you to fix errors. You can read the screen and adjust the settings for better sewing results. The machine also displays error messages, which makes the sewing even more user-friendly.
Another design feature which is excellent for quilting is the adjustable feed dogs. You can easily adjust the height and position of the feed dog. The machine also has an extension table for quilting.
Performance
The performance of this sewing machine is excellent. It is a professional machine which you can use at home without any difficulty.
You should know that performance of a sewing machine depends on the stitching time, or how many stitches a machine can do in a minute. You will be glad to know that this machine does 850 stitches per minute. It also has 600 stitching patterns. You do not have to worry about sewing any clothes now. The working of this machine is excellent. It hardly stops or cuts the thread while sewing.
Performance is also better with the automatic thread cutter, the tensions controller, and needle threader. The machine also has a bobbin which you can use before starting any project. It will wind the threat which you need.
What you will like about this machine is that the digital settings allow you to sew and not only the foot controller. Several design features help you with sewing. The machine also has a start and stop button. So, now you do not only have to rely on the foot controller to stop or start sewing. Once you reset the machine for a sewing pattern, all you need is to turn it on. It will do the rest. There are several benefits of Singer 9960. You can use the hand controls to adjust the speed of the stitching. Another excellent design feature is the sewing light. Now you do not have to worry about low-light sewing.
You will be surprised that with this the Singer 9960 you can also create clothing. It has 13 different buttonhole styles. It means attaching buttons is not a problem at all. The machine also has twin needle feature. It increases performance when you are creating uniform hemlines.
The performance of a sewing machine also depends on the accessories. There are several singer quantum stylist 9960 accessories which help with stitching and sewing. The machine has 19 different presser feet. You also get a needle set which you can use for various projects depending on the need.
Some other accessories are the seam ripper, screwdrivers, several spool caps, and also a cleaning brush. These accessories make sewing more fun and quick. Make sure that you clean the machine with the cleaning brush to make sure it lasts long and works without any issue. You should know how to use the screwdrivers to maintain the machine. Other accessories include a dust cover and a transportation case.
You will surely want to buy the most reliable sewing machine. This one has a good warranty. The best part is that the manufacturer gives three different warranties. You will get a warranty for the sewing machine head. This warranty is for 25 years. Singer gives a 5-year warranty for light assembly, motor, wiring, speed control, switches, and other electronic components. Singer also gives a 1-year warranty for belts, rings, attachments and bulbs.All these above features makes it one of the best singer sewing machine of 2019.
Problems of Singer 9960
The only problem with this machine is that it is not portable.
Although there may be a few problems of Singer 9960, still it is an excellent choice. The machine is for, the United States and Canadian use only. Make sure that you read Singer 9960 quantum stylist reviews before you buy it. Once you read the above review, you will know that this machine is good for all types of sewing projects. The final verdict is to buy the machine.
The reason is that the machine has so many automatic features which make sewing easier than ever. You get to enjoy almost 600 types of stitches. It also allows you to create clothing. There are several settings for stitching buttons, etc. the Singer 9960 is an all-in-one sewing machine. It is a perfect solution for whatever you need to sew. You will find that the price of this machine on Amazon is also quite less. It sure is a quantum stylist and is the best sewing machine.