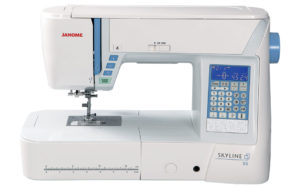 Janome is the market leader for top sewing machine brands. It strives to provide best products & services to enable sewers to be creative and innovative. These Best Janome Sewing Machines are the products that set free creativity of users in the form of beautiful dresses, quilts and other creations. Some of the outstanding sewing machines from Janome are described below.
This is the first one to mention in the top sewing machine brands 2022 from Janome. Janome DC2014 come with features which are compulsory for any sewing project whether it is home decorations, garments sewing, quilting or scrapbooking. There are 50 different stitches including 3 buttonholes which provide variety for diverse stitching needs. Work features are easy and include auto locking button, speed controlling slider and easy reserve. It is the best sewing machine which is a stable and portable high-end machine that allows sewing with confidence and precision. Below are few points about it but you can read the complete Janome DC2014 review here.
Features
Built in 50 stitches & needle threader
Drop feed
Superior feed-system
Convenient reserve button
Maximum stitching length up-to 5mm
Bright LED with convenient navigation keys
Three 1 step button holes
Snapping-on presser feet
Feed dog of pieces
Top loading bobbin with rotary hook
Bobbin winder with auto declutch
Automatic control of thread tension
Free arm
Maximum stitch width of 7mm
Extra high lift of presser foot
Lock stitching button
This is also known as Janome Magnolia 7330. It is most advanced sewing machine among magnolia line machines. It is perfectly suitable for creation of home decorations and other sewing projects. You can use this and add personal instinct to both wardrobe and home. It comes with 30 different stitches with many other great features of being automatic. It represents the same technology and precision as can be found in all machines of Janome.
There is a start and stop button along with a button for easy reverse. Stitching lock button prevents unnecessary working of machine. Needle position is memorized so that you don't need to adjust it again and again. Thread tension dialing is manual. There are navigation keys which help to operate it. Stitching chart helps in monitoring the performance. It is a good value for your hard earned cash as it has following features below or you can read full Janome 7330 review here.
Features
30 different stitches with six 1 step button holes
Feed dog with 7 pieces
Bobbin winder which is auto declutch
LED screen is backlit to give easy navigation
Drop feed
Needle threader (automatic)
Convenient reverse button
Free arm
Extra high lift of presser foot
Lock stitch button
Maximum stitching length of 5mm
Maximum stitching width of 7mm
Covered presser feet
Speed controlling slider
Super feed system
Top loading hook bobbin
This is another choice from top of the line sewing machine brands Janome sewing machine under magnolia label. Its features are easy and functionality is supreme. You can use it for all kinds of projects whether it is for home decorations, crafting, garments or quilting. There are 18 decorative & utility stitches with convenience of electronic features. It provides power & precision that can be expected from any Janome product. If you want to complete your products easily and quickly, this machine is a perfect choice for your budget and lifestyle. This machine has dials for stitch length and also for stitch selection. There is reverse lever and stitch chart which help in easy stitching process.You can also reaad the full Janome 7318 review here.
It comes with following features.
Features
It has 18 built-in stitches with one 4 step button hole
Feed dog has five pieces
There is an extra drop feed and free arm
Presser foot has extra high lift
Maximum length of stitch is 4mm whereas maximum width is 5mm
Bobbin winder is push/pull
Presser feet comes with Snap-on
There is a selection dial for stitches
Bobbin is top loading rotary hook
This machine by Janome is last one to mention in list of top industrial sewing machine brands. If you want to have a lightweight and small sized machine, this is the one. It include various amazing features to support its workings such as built in 8 stitches, top loading system of bobbin, automatic needle-threader, button hole and much more. This is a convenient, compact and lightweight sewing machine.
It is best suitable for people who have just started sewing or for someone who desires of having lightweight sewing machine to take to the sewing classes. There are 4 button holes, stretch stitches and utility stitches. Stitch panel is very convenient and shows all stitches. If you are a beginner in sewing, this machine is for you. Just turn dial up to desired stitch. Next step is to see automatic stitch length & width adjustment. Reverse lever is located on front side of machine. If you want to reinforce your stitches, this is the right option.
There is convenient marking for measurements at its needle plate. You can easily see from clear bobbin cover to check whether thread is needed to be loaded or not. Fabric edges can be sewed without any jam. Needle threader is automatic and simple. It works by simply pulling down needle threader and putting thread in hook & front of needle. When you pull it back, needle threading completes in an instance. Free arm can be taken off to left. Foot can be removed by just a click of button. You don't have to screw and unscrew feet on & off. there is storage compartment within free arm. Accessories include in purchase are sliding button hole foot, over edge foot, seam ripper, screwdriver, extra needles, bobbins and many more.
If you want to get a brand new sewing machine with latest features that will last longer, Janome 5812 fulfills your needs. Customers` reviews for this machine indicate that it has the power to stitch while fulfilling your sewing needs with confidence by working for all kind of fabrics whether these are heavy denims or lightweight quilting of cotton stuff and all the stuff kind that comes between these two. With 12 actual and 39 functions for stitches it gives you variety to experience. There are precise four step buttonhole that creates buttonholes for all sizes. Motor being heavy duty handles denims with ease. Top dropping bobbin system prevents annoying bobbin adjustment. You will be able to sew sleeves, cuffs & hems due to its free arm.You can read full Janome 5812 review here.
Pros
Janome 5812 sewing machine gives tight yet nice stitches by selecting the right selector
You can try on different types of stitches
Janome 5812 dragon sewer gives flawless sewing results
Extra high presser foot lift works best for think fabrics and also for quilting
It is lightweight and good choice for travelling
You can also take it to your sewing classes
Simple & easy to use
It creates beautiful buttonhole
Cons
It works slowly
Buttonhole is 4 step and needs improvement
CONCLUSION
Janome stitching 5812 is a quieter, reliable & lower maintenance requiring machine that is better than many discount machines.
The Janome HD1000 sewing machine gives good utilizing capacity and features with its 14 stitches built-in. These include utility, stretch stitches and also one buttonhole stitch that completes in 4 steps. Machine body is made from cast Aluminum. There are multiple accessories that come with this machine including bobbins, extra needles, felt, hem guide, buttonhole foot, hemmer foot, zipper foot, buttonhole riper, seam ripper, 2 screwdrivers and soft cover. In order to facilitate easy stitching for sewing collars, cuffs and pants, its free arm works well. There is drop feed as well for attaching buttons, stippling, darning and other applications regarding free motion. Needle threader is automatic to save precious time. It also makes it easy to thread the machine and prevents eye strain.Try full Janome HD1000 review here.
Pros
Free arm is removable and can be attached or detached as per needs
Feed dog is 3 piece system
Side cover is included
Janome HD1000 machine is easy to adjust the zigzag width and
stitch length
Thread tension can be controlled manually
Reverse lever is easy to handle
There is selection dial for selecting stitches
HD1000 sewing machine comes with warranty of 25 years
Cons
Some customers complain improper working. For this purpose, refer to users manual.
CONCLUSION
Easy to setup, operate and handle, this Janome machine will make stitching an easy task for you.
Janome HD3000 is a heavy duty machine that features 16 stitches with 1 step buttonhole and needle threader that is built-in. Bobbin winder is push/pull. It is a mechanical machine for sewing needs that comes with free arm, so that you can easily sew cuffs, collars and other stitching tasks. You can easily adjust the tension in the thread. There is a carrying case to move it with you while travelling. Stitch width and length is also adjustable. In order to get done with your sewing needs of all type, this machine is really helpful.Read full Janome HD3000 review here.
Pros
Foot storage within machine`s top
Visual guide for sewing
Guidance for use of foot as per requirement of different type of stitches
Janome HD3000 heavy duty is a fast machine
Easy to operate
Easy to adjust
Cons
Janome HD3000 sewing stylish machine is an easy to use machine and users admire it for its functions.
CONCLUSION
The sewing machine is a truly heavy duty sewing machine that out performs the sewing machines available by other manufacturers.
The Janome 8077 is a computerized machine that is equipped with all requirements for a comfortable stitching and sewing. Its needle threader is automatic so your eyes will face no more strain. You can easily adjust length & width of the stitch with a single button touch. Free arm is there to facilitate for sewing cuffs, collars etc. there is an LED screen that is bright and 2 digit for simple selection of stitches. With an amazing feeding system it is capable for drop feed. Janome 8077 computerized sewing machine is structured such that it allows you to select from 30 in-built sewing stitches from its front panel of stitched appeared on the LED screen.Read Full Janome 8077 review here.
Pros
There is a start and stop button to avoid use of foot controller
Bobbin winder of this computerized sewing machine is automatic declutch
Stitch button is easily reversible
Thread tension is adjustable
Button for needle movement
Non movement of fabric and non slippage during sewing
Auto lock for basic stitches
Automatic threading of needle
Automatic thread cutter
Ability to pull fabric of various types
Top dropping bobbin with a clear cover
Cons
Some items may not seem appropriate such as due to packaging, working issues etc. This may be due to inventory fault or not following manual directions.
CONCLUSION
Well equipped machine at a very good price.
Janome 2212 is another quality result providing machine from Janome that has maintained the credibility of Janome for sewing machines. This one has a very reasonable price that features 12 stitches, all built-in with a button-hole that is 4 steps process. Janome 2212 sewing machine allows users to select the dial pattern along with adjustment of width & length. It comes with accessories including blind foot, foot controller, bobbin, screwdriver, needle set, seam ripper, buttonhole foot, instruction book, zipper foot, cover of vinyl dust etc. This machine for all tasks comes with reverse lever for easy stitching. Free arm allows you to complete sewing task within less time and with precision.Read Janome 2212 Full review here.
Pros
Janome 2212 sewing machine is a perfect tool for mending and basic sewing
Easy to use and manage
An affordable choice for designer wear
A mechanical machine that is metal body and lasts longer
Can be used for quilting
Cons
Care must be taken in handling the machine and to avoid any problems it
must be used as per manual.
CONCLUSION
This top class sewing machine is great especially for the beginners and those who want to work on a machine that is less complicated.
EDITOR CHOICE
All of the above sewing machines from Janome are worth using but one of these wins the title as per our review of the top sewing machine brands out of 4 for being out class. This is Janome DC2014 sewing machines. It has 50 stitches with 3 button holes. Stitching length is also enough to accommodate easy sewing. Its button hole is just one step process. Stitching width is good with attractive measurement of 7mm. stitch locking is easy with a button and bobbin is top loading with easy threading. Accessories with its purchase altogether make this machine a worth buying one.
As a customer you would surely be enticed to buy a sewing machine that is both affordable and capable of stitching the clothes with the mastery of a pro. Janome 8002D Serger can wonderfully meet these demands up to your entire satisfaction. You have got additional features with the machine, not so much available in other sewing machines. Unlike most of the sturdy sewing machines of other brands, Janome 8002D Serger supports the novices with its simplest operational features. The beginners may face issues dealing with the colour coding charts yet simply by reading the instructions they can learn threading within no time. At the same time, Janome 8002D Serger is supportive to the experienced stitching masters, giving them options of adjustable cutting width, adjusting the fabric and its stitching according to their requirements.  The other wonderful features of Janome 8002D Serger sewing machine include color coded threading chart, 3 or 4 thread overlock stitching and a running speed of 1,300 stitches per minute. Janome 8002D Serger sewing machine runs smoothly on types of fabrics and is also capable of preventing stretched edges, controlling puckering and providing you a wonderful finish. It would definitely be a pleasant experience for you to do your sewing work on Janome 8002D Serger sewing machine. Try full Janome 8002D Seger review here.