There are many sewing machines which can sew both lightweight and heavy fabrics such as jeans or leather items. If you are looking for one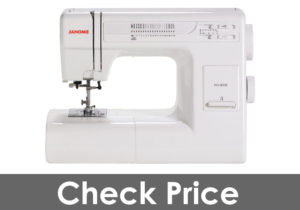 of those sewing machines which handle large and thick and multi-layered fabrics such as leather items you should get the Janome HD3000. It is a highly durable machine too. This has many features which allow you to sew and create any clothing. It is one of the best high-end sewing machines on the market. Read this Janome hd3000 review to know all about this sewing machine. The review will help you provide all the necessary information while covering all the major aspects of the sewing machine.Read this buyer guide about best sewing machine to select best from multiple.
Technical Specifications
Type: mechanical sewing machine
Built-in stitches: 18 built-in stitches
Weight: 18.7 pounds
Frame: heavy duty metal frame
Free arm capability: yes
Preset feet: Snap-on feet presser
Rolled Hem foot
Feeding system: 7-piece feed dog
Reverse stitch capability: yes
Built-in needle threader
Design and features
The sewing machine has an intuitive design. It is an easy to use a machine with all Janome hd3000 parts labeled. The top middle has the 18 stitches. On the right side are the easy to use sliders for controlling the length and width of the stitches. Below it, you will find the reverse leveler. With this button, you can comfortably reverse stitch any fabric.
You will find that the placement of buttons is quite accessible. The weight of the Janome HD3000 sewing machine is 18.7 pounds. You can easily place it on the table and use it. You may find it a bit heavy than other models. The HD3000 has a see-through bobbin plate. With this, you can easily see when the thread will run out. The top which has the 18 stitch patterns is a flip up stitch panel.  When you flip it up, you will get some extra information. The flip up panel has extensive labeling for stitches with the corresponding foot presser.
Although the machine has a built-in compartment for storage where you can store the accessories such as needles, a small and a large screwdriver, different feet, spool caps, spool holders, seam ripper, lint brush, quilt bar, etc.
The HD3000 has an automatic needle threading system. With the help of built-in automatic needle threader, you won't get into any hassle. It is also a great choice for those who wish to do some free arm sewing. It has a free arm design feature too. Now you can sew pants or sleeves without any issue. The foot controller is quite impressive too. It is an electronic foot controller which you can use to adjust speed to the type of fabric.
Performance
It is an excellent heavy-duty sewing machine. The company manufactures this machine especially for stitching and mending thick fabrics such as jeans, multi-layered fabrics, and leathers. It provides an excellent performance rate. The machine comes with a powerful motor which ensures that the thread does not break. The machine uses sturdy and highly durable needles for piercing the thickest fabrics. It can handle both fragile and thick layers of materials.
The performance also increases with the automatic bobbin winder. The Janome HD3000 comes with the auto-declutch bobbin winder. All you need is to push the bobbin winder to the right, and it will wind the thread and also automatically stop once done winding.All these features of Janome 2212 makes it one of the best janome sewing machines of 2023.
Why is Janome HD3000 Heavy Duty best for Leathers?
To sew heavy fabrics and leathers, you need high-quality feed dogs. The Janome HD3000 has highly reliable 7-point feed dogs. It also has a drop feed capability which ensures that you get a smooth feed no matter how tough or heavy the fabric is. It is why Janome HD3000 is the best sewing machine for leathers. The feed dogs adjust feeding speed according to the type of fabric. Together with the sturdy needles and the powerful motor, you will enjoy easy leather sewing.
Benefits of Janome HD3000
The biggest benefit is that you can sew heavy fabrics such as leathers with this machine without any concern. It is a perfect sewing machine for leathers.
Another benefit of this sewing machine is that it has a jam-proof bobbin system. It has a top loading bobbin system. Most sewers across the world find this system easy to use. Also, the jam-proof technology ensures that the thread does not stick in the bobbin while you sew.
You also get an adjustable presser foot pressure. It is an easy to use the dial to adjust the pressure on the fabric. Now you can choose the amount pressure based on the type of fabric you are sewing. You can use the manual to know how to dial works, and it is quite simple. In fact, all parts of the machine are easy to use. It is an excellent choice for beginners.
One of the major benefits is the precise tension control. The machine comes with an easy to use labeled thread tension dial. Now you can control the thread tension without any problem. It has tension level marked on it. It is a great feature for beginners who do not know a lot about controlling the thread tension.
Problems of Janome HD3000
This sewing machine has only 18 stitches. These may not be enough for most users who want to experience on the fabrics.
The machine does not come with the Janome hd3000 extension table. You will have to buy it separately. It will add a bit more cost.
The Janome HD3000 is worth every penny. It is a good choice for beginners. It is an excellent sewing machine which will serve all your sewing needs. No matter you want to sew a light weight fabric or leather, it will stitch every fabric quickly and easily. The price may be a bit high, but it is worth it. With the excellent design and sewing capabilities and features, you will surely love to work with this sewing machine. Make sure that you get
Janome hd3000
heavy duty mechanical sewing machine.