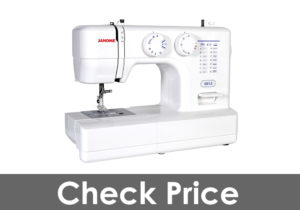 Read Janome 5812 review and complete insights with honest benchmarks.
If you have ever looked for high quality sewing machines in the past, you will understand that it is actually not a very easy task to do. It might appear simple but there are a lot of details and technical features that you need to look up before making a final choice. Moreover, you have to be very careful because you need to buy a sewing machine in accordance with your expertise level. If you are a beginner or learner, you need a machine that comes with easy functions and vice versa. Janome is a well-reputed brand that has been around for many years and has continued to offer high quality sewing machines to customers. Recently, it has launched the Janome 5128 sewing machine in the global markets. In this review, we are talking about everything you would ever want to know about this product!
This machine comes with great performance and promising functionality. Moreover, this machine provides long-term durability with a very solid and high quality material construction. This surely means that this sewing machine will be a one-time investment for users for several years on end. It will certainly be long before you will need to find a replacement for it. Moreover, this machine is ultra-light in body weight and very petite in size.All these features makes it one of the best janome sewing machines of 2023.
Features of Janome 5812 sewing machine
There are many distinctive features of the Janome 5812 sewing machine that make it an amazing choice for users who want to buy a high quality stitching machine for home use.
The price of this machine makes your doubt what sort of motor would be installed on this machine. However, the motor is so powerful that it works just as smoothly on thick leather and polyethene as it does on lawn and cotton.
The price is very reasonable. It is considered to fall in the lowest price range category by Janome brand.
The machine aims to be suitable for beginners. Hence, it comes with very easy and simple functions.
You can also see the buying guide of best sewing machines to buy in 2023
Pros
It comes with very simple and easy functions.
This machine has an inbuilt thread cutter and drop-in bobbin.
This machine does wonder when it comes to performance because of its multipurpose functions.
It comes with a long-term product warranty.
Light in weight.
It is solidly built with superior quality materials.
Cons
It creates a very disturbing loud noise which is very distracting for users.
The light over the sewing patch is very low which messes with the visibility.
The
Janome 5128 sewing machine
is a mega giant by Janome brand. Moreover, it is a superior quality sewing machine that works efficiently on all fabric types and textures. The performance of the machine is never compromised on. In our above review, we have comprehensively reviewed every good and bad aspect of this machine that users should know about before they purchase it. All in all, this amazing machine by Janome is a worthy choice particularly for beginners who want to learn this art at home.