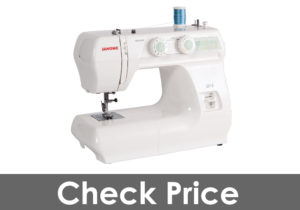 Janome is a quality brand which manufactures some of the top quality mechanical sewing machines. The price of these sewing machines is also quite affordable. One of reliable sewing machines by Janome is the Janome 2212. If you are looking for a budget sewing machine, it will be the right choice. But before you buy, you should read this detailed Janome 2212 review. You will get all the necessary information you need about this sewing machine via this review. It will help you make the buying decision.While this buyer guide about best sewing machine may be helpful for you.
Technical Specifications
Built-in stitches: 12 built-in stitches
Sewing speed: 860 – 1000 stitches per minute
Weight: 16 pounds
Reliable fabric feeding system with 5-point feed dogs
Push-pull bobbin winder
High presser foot lift
Free arm design
Design and features
The design of the machine is quite ergonomic. You won't find it difficult to sew clothing items. The machine is entirely mechanical. There are no computerized parts or LCD screens for controls. You will find levelers, buttons, and adjusters on the machine. On the top left is the stitch selector dial. To its right is the stitch length dial. Below it, you will find the reverse leveler.
The placement of buttons, dials, and levelers is excellent. You can easily reach these while sewing to adjust the settings accordingly. The machine only weighs 16 pounds. It has a compact design, and you can easily place it on a table and work. The design makes it an excellent choice for home use. The machine has labeled stitches. You can easily view the type and adjust the setting accordingly.
This sewing machine also has an onboard storage compartment. It means that you can easily store the Janome 2212 accessories. Among many other accessories is the Janome 2212 walking foot. It makes sewing even easier for the novices. This also has blind hem foot, zig-zag foot, and sliding buttonhole foot. It also has a vinyl dust cover, screwdriver, and a needle set.
Performance
Janome sewing machines are well-known for their stitching speeds. The Janome 2212 is not an exception. It is one of the fastest sewing machines you will find on the market. With the 1000 stitches per minute, you can now sew clothes in no time. Although it may not work as a heavy-duty machine, with speed, you can finish a lot more projects in a day.
The performance of the sewing machine also depends a lot on the onboard buttons and dials. Unlike the digital sewing machines which have all the settings on the LCD, this one has different dials for adjusting length and type of stitches. It becomes easier to adjust the length while sewing. The placement of the dials also increases the performance. It may take some time for you to become and expert to use the dials while sewing.All these features of Janome 2212 makes it one of the best janome sewing machines of 2017.
Benefits of Janome 2212
The Janome 2212 is an easy to use and a very affordable sewing machine. If you are on a tight budget, yet you need a high-performance sewing machine, this is the best choice among many. You only have to pay $189 for this machine. It is not only cheap but performs faster than many other sewing machines on the market. This is a very suitable sewing machine for beginners. It is an excellent machine which you can use not only for sewing but also quilting. With the help of Janome 2212 manual, you can learn how to sew in a few days.
The machine comes with 12 stitches. These stitches are adjustable. It may not be enough for most users, but for ordinary household sewing needs, these stitches are more than enough. It is why this machine is also known as the sewing machines for basic needs. Another benefit is that with the free arm design, the beginners have a lot of space to practice. If you are a beginner, you can improve your sewing skills using this machine quite comfortably.
The machine has a design which allows you to spot the source of thread jams quickly. The front loading bobbin is easier to clean and get rid of bobbin jams. Also, the built-in thread cutter saves time and increases performance. The bobbin winding system is also automatic. You do not have to worry about winding the bobbin manually.
One of the best features is the reverse stitch. With this feature, you do not have to reverse the cloth to stitch in the other direction. It saves not only time but also effort. With the 5-point feed dogs system, you do not have to worry about the cloth feeding. It may not be fast than the 6 or 7-point dog feed system, but it is enough for the basic sewing and quilting needs.
With the help of Janome 2212, you can sew the natural fabrics such as cotton and linen. It sews the velvet, silk, satin, taffeta fabrics without a problem. With this machine, you can also sew upholstery and many synthetic fibers.
Problems of Janome 2212
The Janome 2212 has a few cons. For example, it does not have an automatic thread tension. It means you need to be an expert to adjust the thread. The machine also has only 12 stitches. It is a very low number of stitches which are only utility stitches.
One of the big problems is that it is quite noisy. If you are looking for the sewing machine which does not make any noise, this is not it. Another great disadvantage is that it only works in the US. It has an 110-volt motor which is not suitable outside the US.
It is the best sewing machine for a low budget. This has an excellent design, and it is very easy to use. It is also portable. The machine has all the basic features for stitching and quilting. So, if you want to buy a sewing machine which serves all your basic sewing needs, Janome 2212 is a good choice. But if you need more stitches and extra features, this may not be a better choice.