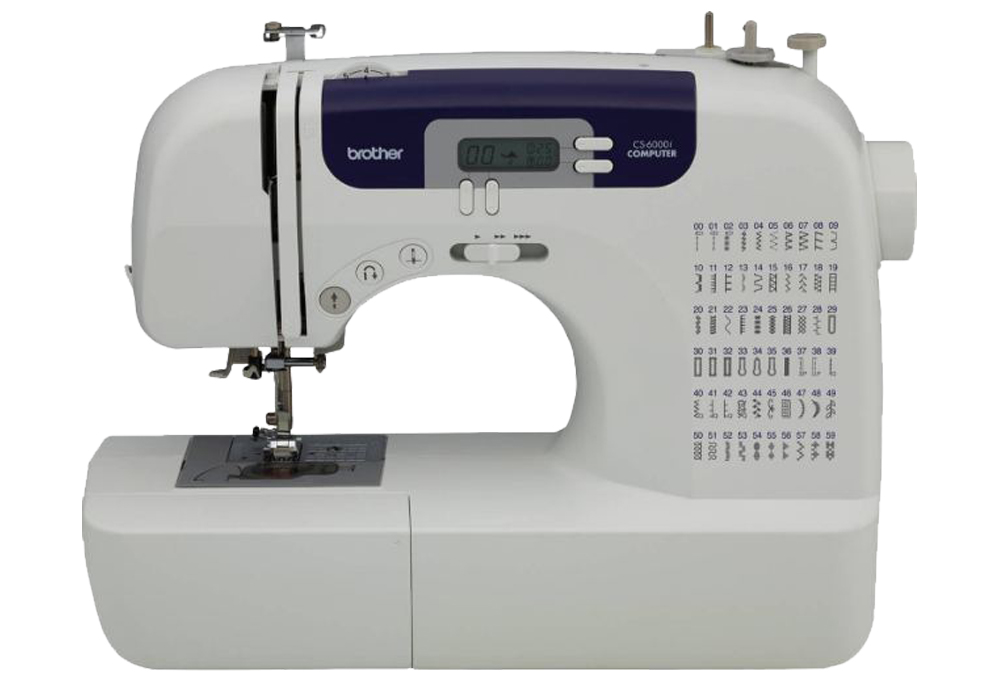 Brother is one of the leading sewing machine manufacturers from top sewing machine brands. From conventional to advanced computerized sewing machines, it has always maintained its credibility by providing one of the best brother sewing machines for users. Following sewing machines by brother are some of the best machines of all time;
Best Brother Sewing Machines
Brother SE400 sewing machine is the best choice for sewing, quilting and embroidery. You can easily convert your imaginations to reality with this machine. It comes with comprehensive functions and 4×4 embroidery capabilities. LCD display is touch screen which can be easily viewed. You can easily use 67 sewing stitches which are all unique. There are 70 embroidery designs built-in to this sewing machine. These are 5 letter fonts. You can also connect computer to internet and download embroidery designs. Internet also functions for machine updating in future. Thread cutter is automatic which functions by just 1 touch step.
It easily cuts bobbin and top thread. Bobbin preparation is easy. There is a winding system for bobbin as well through which bobbin quickly gets ready. Needle threader is automatic. Needle area is enlightened by brilliant light. Need for tweezers vanishes because of automatic thread cutter. User manual is bilingual. Warranty period is 25 years along with free phonic support during product`s life. This machine requires 120V AC for its functioning and is thus only recommended for countries that support such voltage. Read Brother SE400 full review here.
Another one in the list of top sewing machine brands 2022 is Brother PQ1500SL. This machine tackles problems for fabrics. It is amazing to support jobs at large scale. It is a high speed stitching machine which can sew at per minute rate of 1,500 stitches. Pin feed is adjustable with 4 feed-dog settings to give maximum control over fabric.
There are bed extension-tables and knee lifters for quilting, adjustment arrangements for foot pressure with automatic cutter of thread and needle threader which saves time and makes its use a convenient experience each time. This machine has straight stitching sewing foot, foot control, power cord, walking foot, seam guide, spring-action quilting foot, quarter-inch foot, adjustable & invisible zipper foot, hem foot, sewing notions and manual from owner. 25 years of warranty cover it for maintenance needs. Read brother PQ1500SL review here.
Brother LB6800PRW is the best sewing machine. It is a truly versatile machine which offers comprehensive functions for sewing. There are 67 sewing variable stitches, 4×4 embroidery designs & editing options. LCD display is touch screen which lights the area and makes it easy to view stitches & designs. There are 7 built-in embroidery designs with 120 combinations of frames and 5 letter fonts. Designs can also be imported through internet connectivity. 4×4 embroidery hoop, designer rolling-bag, soft cover, bobbin thread for embroidery, USB cable, 7 special sewing feet etc. all come in one package.
Threading of top and bobbin are both easy to give a reliable, even and consistent stitching. Thread cutter is also automatic which cuts top & bobbin thread by just a single click. User manual is bilingual and comes with limited warranty of 25 years. Phone support is also an additional advantage. This machine also requires voltage of 120 DC and hence is suitable only for countries where such voltage is available without using adapter.Read full brother LB6800PRW review here
Brother CS6000i is a versatile, perfect and value packed sewing tool for variety of sewing & quilting projects. These features make distinguish it in review of sewing machine brands. It comes with accessories stored inside compartment. You can select stitches & then adjust the size of stitch such as length and width through setting displayed on LCD screen. Foot control is not needed due to availability of start/stop button. Speed control lets you to adjust sewing speed as per your speed level. Bobbin is top drop-in which is a quick setting option and I also jam resistant. So you can access bobbin thread easily without fishing for it. There are many accessories that are provided to support functioning of this sewing machine.
These are stored inside a compartment of machine`s arm and include protective case, operation manual, power cord, eyelet punch, screwdriver, seam ripper, cleaning brush, 3 bobbins, spool pin, twin needle, needle set, oversized table all inside accessory pouch etc. accessory feet include walking foot, button-fitting foot, blind stitching foot, zigzag foot, zipper foot, monograming foot, overcasting foot and buttonhole foot. User manual is bilingual and machine comes with warranty period of 25 years. This machine works at voltage of 120 DC and hence does not operate at lesser voltages even when an adapter is present. Not recommended for countries where such voltage is not available.Read full brother cs6000i review here.
Brother HC1850 is perfect sewing machine from top industrial sewing machine brands for sewing, quilting along with basic monograming. It features unique 130 stitches including 1 step button holes which are 8 in number.to support basic monograming there are 55 alphanumeric stitches. It is designed for easy use and flexibility. Machine includes convenient details, built-in stitching reference flip chart, eight presser feet, adjustable speed option, push button selector, automatic thread system, detachable foot-controller along with feed system which enables users to sew on almost all types of fibers.
There are special quilting features such as detachable wider table, freely motion quilting and action foot for quilting. It is portable due to being lightweight. If you are taking sewing classes, you can take it with you. English & Spanish instruction DVD, with operation manual as well as 25 years of limited warranty, these are all advantages of buying Brother HC1850 sewing machine.Read full brother HC1850 review here.
This is the last one in our list of best brother sewing machines from top of the line sewing machine brands. Brother XR9500PRW is a unique machine which comes with heirloom and decorative stitches. This machine is a limited edition and is ideal to embellish almost everything from homer decorating items to clothing and to create designs for unique quilts. LCD screen of machine is back-lit and large sized. This helps to select stitches. It comes with guide for making unique flip stitches.
With this machine it is now easy to create fashionable items. Whether you are interested in making 55-alphanumeric stitching for basic monograming or lettering, you can select from 8 one step button holes and can also use wide table for accommodating large quilt projects. It is a computerized machine which offers various convenient features.Read full brother XR9500PRW review here.
If you want to enjoy pre-programmed stitches that can be readily used by a single button touch, get this one from top most sewing machines from Brother. It directs 10 stitches selecting via touching a LCD screen. Threading system is also advanced with automatic trimming for thread. For feed dogs there are 6 points in this PC420PRW sewing machine. Knee liftis built-in that raises presser foot for repositioning or removal of fabric. Length & width of stitch is also easy to control in this machine. Twin needles function effectively for different type stitching. There is hard cover, walking foot and quilting foot included with the package. Brother PC420PRW sewing horse comes with warranty of 25 years. Functioning of twin needle is useful for getting parallel stitches. Brother sewing package PC420PRW is perfect for hemming, quilting, pin tucking, hemming and trying many other types of embellishment techniques.Read full PC420PRW review here.
Pros
Brother PC420PRW sewing machine is a quite machine and sews
without creating noise
Automatic threader saves time
Sewing speed is adjustable effective for both slow and faster speeds
Automatic thread cutter
Reverse stitches by a single touch
Cons
No major drawbacks for this sewing machine are observed and it seems to
be finest choice for sewing.
CONCLUSION
Brother PC420PRW for you is a fantastic machine which comes at fantastic price.
Brother CX155LA computerized machine is the limited edition byBrother and just like its name its features are really impressive. There are 11 quilting and sewing feet included in this machine. Using these feet youcan turn into reality your dream projects. There are large numbers of built-in stitches say 155, such a huge number. These include 8 styles for one step automatic sizing buttonholes with 55 stitches that are alphanumeric. Designer accessories are included including wider table for providing working space. This table allows window treatments & also sewing quilts of king sized. BROTHER CX155LA sewing machine is a reliable machine with easy threading function for both bobbin and top thread to consistently give quality stitching.Read full Brother CX155LA review here.
Pros
High quality machine that give high quality stitching results
Affordable machine
A tool for creating home decorative items
Free online customer and technical support from manufacturer
User manual provides complete details for usage
Cons
BROTHER CX155LA machine to sew anything has no case and you
have to buy one manually
Work error appears sometimes that needs service
Threader sometime stops working
CONCLUSION
For creating embroidered stitches or for quilting, this CX155LA model has decorative stitching available which can be used with multiple other stitches to make creative designs.
This is a free arm machine for sewing that has 25 stitches built-in. each of these stitches do multiple functions that is good for the novices. Brother XL2600I sewing machine is good for everyday stitching projects. There is a storage compartment in its free arm for string accessories. Thread cutter, needle threader, top dropping bobbin, automatic sizing buttonholer and automatic bobbin winding are all its advanced features. This sewing machine from Brother requires 110 volt for working. There is a light bulb to lighten the workspace. For creating new
innovative designs, this is the right design for you.Read full brother XL2600l review here.
Pros
It is very easy to learn its use
You can use it without worrying about threading or thread cutting
You don't need to adjust setting & dials each time you operate it
Brother XL2600I computerizes machine sews quietly and steadily
Speed can be adjusted to your comfort level
Directions are simple and written on sewing machine
Easy threading, easy preparing and easy winding of bobbin
XL2600I is a very forgiving & durable machine
High quality stitches even for beginners of all ages
Cons
Brother XL2600I machine is for countries where 120 volt is available and
hence not for those that remain below this volt. Even adapter is not
supportive for required voltage.
Some customers complain that they were able to access half of stitches
available. The thing is that just turn stitch length-dial to SS position and you
will be able to access remaining stitches as well.
CONCLUSION
Other than voltage issue that is not supported in most of the countries, it is a good to have Brother sewing machine for your stitching needs.
This Brother XR3774 is an easy to operate and value packed edition that is versatile and perfect due to its features. It comes with support for multiple types of sewing projects. Affordable Brother XR3774 is among least expensive sewing machines from Brother that also features wide sewing table to support large-scale sewing projects like quilting. There are 37 built-in stitches in this sewing machine, all unique with great decorative stitch selection making a total of 74 stitches. Buttonholer is one step and fits automatically as per size to give virtually perfect sized buttonholes. There are eight sewing feet including quilting feet, walking, narrow hemmer, sewing button, blind stitch, zigzag, zipper and buttonhole. Features are all easy to utilize including that of needle threading, top dropping jam resistant bobbin bright work area.Read full brother XR3773 review here.
Pros
Brother XR3774 machine to sew is a well crafted sewing machine
It is light weight
Built quality is durable
Stitch quality is perfectly impressive
Quality stitching Brother XR3774 is very affordable
Cons
Sometimes buttonhole stop working that is annoying.
CONCLUSION
If you want an affordable machine that can be your partner for all kind of stitching needs, go for it.
EDITORS` CHOICE
Though all above sewing machines are perfect in their own way, one of these which stand out among all is Brother HC1850. It offers features for not only simple sewing and quilting but also monograming. With 130 unique stitches, 8 one stop button holes, 55 alphanumeric stitches this machine is a worth buying option.