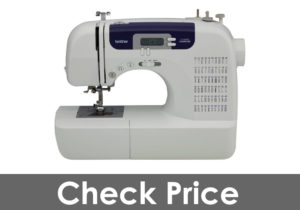 You may want to buy a sewing machine which is not only cheap but also offers various stitching styles, etc. Among many brands, Brother is another trusted name of sewing machine brands. If you want a cheap, yet feature-rich sewing machine, make sure you buy the Brother cs6000i. It is an excellent choice for small sewing and quilting projects. It is the best sewing machines for tailoring. Before you buy, you should read about one of the best brother sewing machines the brother cs6000i reviews. An extensive review which covers all aspects of this machine and gives you a reason why Brother cs6000i is a most affordable machine available in 2018? Read the review to know more about this sewing machine.
Technical Specifications
Built-in stitches: 60 built-in stitches with decorative stitches
Sewing speed: 850 stitches per minute
Style of sewing: Essential and decorative
Weight: 13 pounds
See-through bobbin
Twin needle capability
Needle Threader: Automatic
Preset feet: seven feet pressers
Thread tension setting: Automatic
Design and features
Brother offers top of the line sewing machines, and this one is yet another excellent model which has a simple design. It only weighs 13 pounds, which makes it easy to carry around.  The machine has a throat size of 6.5 inches. It is why this machine is only good for small sewing and quilting projects. Unlike many other machines, you can start or stop it with a button or the foot pedal. Both the foot pedal and the button have adjustable speed settings. It allows you to work at a comfortable speed.
The overall design is excellent. The machine has a small LCD screen on which you can see the type of stitch you are doing. You can also select the type of stitch you want with the buttons. What you will like about this machine is that it has all the 60 stitches marked on the body. Now you just need to see the stitch type you need and apply the code. No need to remember all those stitching styles. It is why this sewing machine is an excellent choice for home use.
The design also includes an extension table for heavy clothing items. The machine has a standard drop-in bobbin. It is a jam-resistant quick set bobbin. The arm of the machine is large and has storage space for small accessories.
The performance of a sewing machine depends on a lot of factors. How easy is it to use? How many stitches can it do in one minute? Is it automatic or manual? This unit has a speed of 850 stitches per minute. It is an excellent choice for expert tailors. The machine is a good choice for those who want to do more quilting projects. Another useful benefit of brother cs6000i machine is the custom stitches just like Brother Project Runway PC420PRW Sewing Machine.
The machine has a large table and walking foot which makes quilting easy. With the quilting foot, you can get more accurate stitches. The machine is easy to use and allows you to start a new project easily; placing threads and bobbin is an easy task. Another benefit is that you can adjust the speed. It allows you to work according to the ongoing project.
Benefits of Brother CS6000i
It is the best sewing machine for new sewers. It has an automatic needle threader, an automatic thread cutter, and a bobbin winder. These three features make sewing not only easier but also good for those who are starting to learn sewing.
Another feature which you will like is the adjustment for the stitches' length and width. This machine allows you to adjust the width and length of the stitch easily. The maximum length you get on a stitch is 5mm and the width 7mm.
Among many benefits of Brother CS6000i, the best is the one-step buttonhole operation. The machine also offers seven different buttonhole styles. Now you can create any style of fabric you need. Creating hemlines is also very easy with this sewing machine. Using the twin needles, you can quickly create hemlines.
Another excellent feature this sewing machine has is the tension control mechanism. The machine will determine the tension level depending on the type of fabric and stitching. This feature allows easy sewing. It is also a good choice as it has a brightly lit work area. The bulb provides ample amount of light for stitching the dark fabrics and working in low light.
To enhance the sewing speed, and to make sure that the performance does not decrease, you need to maintain the machine. You will be glad to know that it has dozens of accessories. With these brother cs6000i accessories, you can not only maintain the sewing machine but can also easily adapt to any sewing/quilting project. You will get a needle set, screwdrivers, seam ripper and also a cleaning brush. And also get seven presser feet. You also get twin needle, spool pin, three bobbins, and the eyelet punch.
The company offers a different warranty for different parts. You will get a one-year warranty on accessories and labor. The electronic components have a two-year warranty. It is only the chassis which has a 25-year warranty.
Problems of Brother CS6000i
Make sure that you read the user manual carefully. Although it is an excellent sewing machine for the beginners, it still needs some skill. Also, there are a few problems of Brother CS6000i. One of those problems is that it does not have a heavy duty metal case. It only has a hard protective case which may not be good if you want some heavy-duty sewing.
The brother cs6000i feature-rich sewing machine is an excellent choice for those who sew at home. The machine has a lot of accessories and features. It is one of those quality sewing machines which helps you make clothing, quilt and create smaller sewing projects. If you are looking for the best sewing machine, it is time you got the Brother Sewing machine model cs6000i. The verdict is that it is a compact, easy to use and an extremely cheap sewing machine and you should buy it. You only have to pay $159 for this machine on Amazon. With the 60-built-in stitches, you can create any clothing you want.