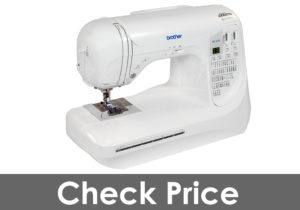 Are you looking for a professional grade sewing machine? If yes, then you should know the Brother Project Runway is an excellent choice for that. Brother is a highly reliable brand of sewing machines. They manufacture sturdy and robust machines which are efficient and reliable for both home and commercial sewing. One of the b is Brother Project Runway PC420PRW. It is an excellent choice for home use. Here is a detailed Brother Project Runway PC420PRW review. Make sure that you read this review to know all about this sewing machine.
Technical Specifications
Built-in stitches: 294 built-in stitches plus custom stitch feature
Sewing speed: 850 stitches per minute
Weight: 20 pounds
Reliable fabric feeding system with 6-point feed dogs
Frame: heavy duty metal frame
Digital stitch length and width control
Preset feet: 11 feet pressers
Twin needle function
Dual LED workspace lighting system
One-handed threading system
Illuminated start/stop feature
A.S.T. bobbin system
Design and features
The design is quite intuitive. The beginners will find this machine easy to use and understand easily how to use it. The machine is capable of performing various sewing tasks with ease. The machine has a digital display. The LCD displays patterns, error messages and other information useful for sewing or stitching.
The weight of the machine is almost 20 pounds. It is an extremely reliable and a heavy-duty sewing machine. With this much weight, you cannot transport it, meaning it may not be portable. Besides that, the overall design is great. Handling the machine is not a big problem at all. Using the feet pressers is easy as these are well-placed. You will not get tired of using the feet pressers.
Another excellent design quality is the addition of knee lifter. With this, you can lift the presser foot without using hands. Loading the machine is easy as it has a high-quality F.A.S.T drop-in bobbin. It is the state of the art bobbin system which ensures winding the bobbin without any hassle.All of these features makes it one of the best brother sewing machines in the market.
Performance
The Brother Project Runway is top notch when it comes to performance. It is one of the fastest sewing machines in the market. On average you can get sewing speed at 850 stitches per minute. The best part of this machine is that it automatically adjusts to the fabric and allows on-time completion of the project.
The machine also includes many accessories which help increase the performance level. Besides the 11 feet pressers, you also get a knee lifter, a needle set, a seam ripper, a cleaning brush, twin needle, an eyelet punch, screwdrivers and also spool caps. This sewing machine comes with 3 Built-In Lettering Styles and Carrying Case. The case is durable and covers the machine when not in use. It protects the machine from dust particles which ensure performance and maintenance.
One of the best benefits of this machine is that it does not make much noise. It is quiet when you use it. So, if you are looking for a quiet machine, this is the one to buy. It is a heavy-duty sewing machine. This has 294 built-in stitches. It means that now you do not have to worry about any sewing project. No matter you want to sew utility stitches, decorative, cross, satin and decorative satin stitches, the Brother Project Runway will help you with all these. It is a highly reliable choice for mending, quilting, or even making clothes. You will find that the machine has a stitch pattern for every sewing need.
The most useful benefit of this machine is the custom stitches. You can now design your choice of stitches using the feature known as "Brother My Custom Stitch." You also have ten buttonhole styles. These allow you to create almost every type of clothing you need. No matter which styles of a button you buy from the market, you can now easily stitch them on to the clothes. What you will like is that the machine creates the buttonholes in a single operation; you do not have to repeat the operation.
The machine is also good for large quilting projects. With the help of the adjustable feed dogs, you do not have to worry about the size of fabrics you bring in for sewing. A great thing about this machine is the size of the throat. It has a 7.4-inch throat. The size of the throat is larger than many other sewing machines.
The machine also has a fast bobbin technology. You can use the machine both at home and as a professional tailor. As it is a heavy-duty machine, you can process large quantities of fabric in less time. The 6-point feed dogs ensure that the fabric does not get stuck anywhere while sewing.
Problems of Brother PC420PRW
Although machine has many excellent features, it lacks automatic thread tension, which is a big problem. It takes a lot of time, and most of the time a beginner does not get it right which causes stitching issues. For that, you will have to read the Brother PC420PRW manual for PC420PRW installation. You have to adjust the thread tension manually, which requires sewing experience to master.
Another big problem is that you cannot use the machine if you live in a country which does not support 120 volts. You cannot use the machine even if you use an adapter.
The Brother Project Runway
PC420PRW
is a top-class sewing machine. It is a computerized machine which is easy to use which also have a lot of useful features and functions making sewing easy for the beginners. Although, the thread tension is manual, it should not stop you from buying this sewing machine. With a few sewing projects as a beginner and some practice, you will become an expert at adjusting thread tension. With this machine, you can make versatile and beautiful clothing items. It is one of the best sewing machines available in the market with the price of $387. It may be a high price to pay, but the features are worth it.