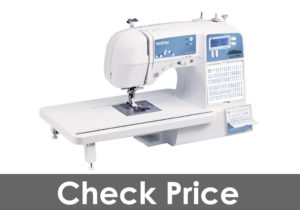 Read Brother XR9500PRW review and complete insights with honest benchmarks.
If you are looking for a brand new sewing machine that promises great functionality, performance, design and is durable as well – this Brother XR9500PRW sewing machine is a very reliable option for you. It is also very reasonably priced which makes it even a better investment option for users.
Have a look at out buying guide on best sewing machines of 2023 to buy.
Highlight features of Brother XR9500PRW sewing machine
If you have been planning to buy the Brother XR9500PRW sewing machine; we completely back you choice with sheer evidence. The features of this sewing machine make it a perfect choice for users; regardless of their level of expertise. Below we take a look at the prominent features of this machine that makes it an ideal daily home use sewing machine.
All settings and functions of this sewing machine are pre-programmed and computerized. So, it does not require any manual assistance or understanding of the functions.
This machine comes with an automated thread trimmer. This is one of its best features because it saves a lot of time and effort and helps the sewing process to proceed very efficiently.
If heavy-duty machines have been a problem with you because they do not offer portability and are difficult to move from one place to another – this sewing machine by Brother will not disappoint you. This machine is basically one of the lightest weight sewing machines that you will find in the market as it weighs not more than 8 pounds.
The materials that are used for the construction and built of this machine are supremely high quality. Hence, you do not have to worry about the lifespan and durability of this product because it won't need a replacement for a very long time.
This is basically one of the most cost-friendly and in other words cheap sewing machines that you can find in the markets. For all the amazing features and characteristics of this sewing machine – the price you have to pay is practically a minor fraction.All these above features makes it one of the best brother sewing machine of 2023.
Pros
The built of this sewing machine is a very high quality which makes it very long-lasting and durable.
It does not create any unnecessary noises that might be disturbing to the people.
It comes with fully computerized functions which makes it much easier for the users to use this machine.
You get a complete user manual and DVD instruction guide for better understanding of the working of this machine.
It is very light in weight and very petite in size which makes it increasingly portable.
Cons
The needle trimmer is fully automatic and this is a benefit. However, it can also be a letdown for the users who are don't know about the latest technology.
This model machine by Brother is the most lightweight, portable, compact and user-friendly machine that you will find trending in the market in 2017. Moreover, the price range is such an affordable margin. This makes it a perfect choice for users and gets a strong recommendation from us as well.