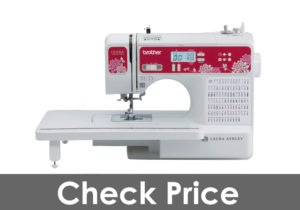 Read Brother CX155LA review and complete insights with honest benchmarks.
Brother is a reliable brand that offers great quality products in a very reasonable price range. The latest model of Brother Brand is the CX155LA sewing machine which makes it very promising in its design and functionality. This review highlights this product in depth and helps you to make a wise buying decision.
Have a look at out buying guide on best sewing machine of 2018 to buy.
Features of Brother CX155LA sewing machine
There are several highlight features of the Brother CX155LA sewing machine that makes its evident on the users that it is a very worthy product to invest in. If you wish to take an insight into the features and characteristics of this machine prior to purchase; read on to find out about the distinctive features of this machine.
The size of this machine is one of the most prominent highlights. It is a very small and compact size which makes it increasingly portable for long-term use. Moreover, the weight of this machine is also minimal which makes it even easier for customers to use.
For user convenience, this sewing machine has a separate LED-lit work area specified. Hence, you do not have to worry about not having enough lightning because the working patch on the machine will be totally visible.
This machine comes with manual speed controls. Hence, you get to control the speed of the machine as per your convenience and requirement. You do not have to worry about it being too fast if you are just on the beginner level or vice versa.
The design and outlook of this machine are very attractive and chic. It actually looks like a small girly toy machine instead of a real machine. However, it certainly works like a mega giant.
All accessories that are required for this machine to work smoothly are included with this product. You will not need to purchase any accessories or parts for this machine separately.All these above features makes it one of the best brother sewing machine of 2023.
Pros
It is very petite and compact.
This machine is light in weight which makes it portable.
The functions of this machine are very simple and easy to use.
All accessories required for this machine are included with this product.
The built in this machine is very strong and sturdy.
This machine is very reasonably priced and comes with a long term warranty as well.
Cons
The work space of this machine comes with an inbuilt light. However, the light is very low and messes with the visibility of the users.
Most of the parts of this machine are of plastic which makes its quality compromised.
The
Brother CX155LA
sewing machine is everything that you need if you are dreaming of learning the art of stitching and sewing. This machine comes with all accessories and has a very reasonable price as well. Moreover, this machine comes with a long-term product warranty which secures the investment of users in this product. The quality of this machine is supreme and extremely high quality. Moreover, the functions are very simple and basic. So if you are planning to buy this product – we strongly recommend it!