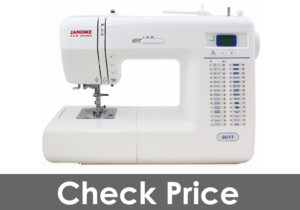 Janome is known for manufacturing some of the best and the most versatile sewing machines. The company manufactures all kinds of sewing machines including the computerized models. One of the best-computerized models is the Janome 8077. It is an excellent sewing machine with lots of features. The features on this machine are suitable for almost all kinds of sewers. If you want to know more about this sewing machine, read this Janome 8077 review. This review will provide you with all the necessary information which can help you make the buying decision.Otherwise this buyer guide of best sewing machine will be a good read for you.
Technical Specifications
Built-in stitches: 30 built-in stitches
Sewing speed: 820 stitches per minute
Weight: 18.2 pounds
Automatic needle threader
Bright 2-digit LED screen
Speed controller with start and stop button
Reverse stitch capability
Precision tension dial
Free arm capability
Auto-Declutch Bobbin Winder
15 needle positions
Four snap-on presser feet
Design and features
This model of Janome has an intuitive design. It is a sturdy machine which can sew heavy layers of the fabric. The machine has a brightly lit LED display. Unlike other computerized machines, this one has push button controls. It allows you to change the settings, and length of the stitches comfortably. The machine weighs almost 18.2 pounds. It means you cannot move it easily from one place to another. If you are looking for a portable machine, then this is not the one you should get.
The work area also has a bright LED light to ensure that you work without any errors. The machine has a 6.5 inches throat. It means that you may find it a bit difficult to work with large sized clothes. The sewing machine also has an extension table. With the help of Janome 8077 extension table, you can sew long pieces of clothing items easily. It extends the working area a bit. Although this sewing machine is heavy, the size is not too large. You can easily put in on a table and work.All these features of Janome 2212 makes it one of the best janome sewing machines of 2023.
Performance
Janome sewing machines are some of the high-speed performers as compared to others on the market. The 8077 Janome computerized sewing machine has a powerful motor which gives an amazing 820 stitches per minute. It is a god choice if you want to prepare more clothes in one day.
The performance of a sewing machine also increases with the features it has. With the reverse stitch capability, you can now only press the button, and it will start stitching gin reverse. It means you do not have to change the direction of the fabric to stitch in reverse.
Benefits of Janome 8077
There are many benefits of this sewing machine. It is easy to use once you understand the features and functions. To ensure that you sew correctly you should always read and view the Janome 8077 manual. The machine comes with an instruction manual in DVD. The DVD also includes solutions to potential errors which may occur during sewing.
The machine comes with 30 built in stitches. These 30 stitches are enough for all kinds of clothing. The stitches include basic garment stitches, quilting stitches, and also decorative stitches. With these three types of stitches, you can sew anything you like. It is why this sewing machine is excellent for home use. It also includes six one-step basic buttonholes.
The computerized controls along with the plus and minus buttons allow you to adjust the length and width of the stitches easily. It is a very precise setting. Once you set the length and width, it stays that way for the whole project unless you change it. You can adjust a maximum length of the stitch at 5mm and the width of the stitch at 7mm.
There are also a few other push-buttons such as a start-stop button, needle up/down button, reverse button, and also an auto lock button. With these control buttons, you can make the sewing more efficient. It may take some time to learn how to use these buttons, once you know how to use creating new clothes or mend existing ones will not be a problem at all. There is a speed controller slider on the machine. You can adjust the speed at low or the highest depending on your expertise and type of fabric. It allows the beginners to get started with low speeds to learn.
There is an automatic bobbin winder feature. It stops automatically when the bobbin is full. With the see-through cover of the bobbin, you can always keep an eye on it and know if the thread is running out. The bobbin system is also quite excellent. It is a top loading system with jam-proof technology.
The 8077 Janome sewing machine has minimal thread breakage, thanks to the horizontal top thread delivery system. Another excellent thing about this sewing machine is the feed dog system. It has 7-point feed dogs. You do not have to worry about the fabric feed while sewing. The machine will feed the fabric in a smooth and steady way.
It is also a good choice because of the free arm sewing. With this feature, you can sew cuffs and collars without any problem. To make sewing easier, you get four presser feet options.
The Janome 8077 accessories include a screwdriver, a spool pin, felt, and spool stand, pack of needles, extra bobbins, seam ripper and two spool holders.
Problems of Janome 8077
The biggest problem with this machine is that it does not have any twin needle system. It also does not have too many stitch patterns to work. You cannot adjust the presser foot. It means you will need some time to learn how to use the machine.
Overall the sewing machine is quite sturdy. It has an excellent bobbin system. The threading is great, and of course, the speed is good. With this machine, you can get the best precision stitching. It is a great option for household use. The price of the Janome8077 computerized sewing machine is $349. If you want a sewing machine which is easy to work with, then buy this one.