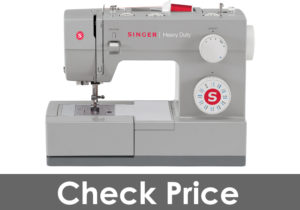 Read Singer 4423 review and complete insights with honest benchmarks.
Singer 4433 sewing machine is a workhorse. It has heavy duty metal-frame, great sewing speed with its powerful motor and stainless steel bed plate. This can sew anything thrown to it. It is equally good whether you need one for garments alteration or for starting sewing from scratch. Furthermore, its use is much easy. In addition, it is a versatile machine with many innovative features. Moreover, needle threader is automatic which saves time. Speed is high enough to beat any other competing sewing machine in the market with its 1,100 stitches/minute. Also, with this speed you can convert creative ideas into reality quickly.
WHY SINGER 4423 HEAVY DUTY SEWING MACHINE IS BEST FOR USE
There are many reasons for which this machine gets the credit for being best. Some of these include that;
It has 23 stitches built-in divided into 1 buttonhole, 12 decorative, 4 stretch and 6 basic ones
Has automatic needle with its bobbin top drop-in
It works at result rate of per minute stitches of 1,100; it has 60% stronger motor
With its heavy-duty metal frame bed plate you can Snap-On the presser feet
Button hole is just a 1 step process and is fully automatic so that you can create beautiful buttonholes in just 1 step
It gives you speed of professional and faster results
Its interior frame is heavy duty to keep machine stable for a slip free sewing
To provide even sewing its bed plate takes out smooth fabric
It has variety of stitches so you can try new one each time you sew something
It is easy to load and has clear cover
Bobbin is drop-in and convenient for easy insertion and removal
Bobbin has clear way so you can monitor thread supply clearly
FEATURES OF SINGER 4423 HEAVY DUTY EXTRA SEWING MACHINE
Variety for sewing
You can select different stitches and complete project within minutes due to its stronger motor. Also, sewing results are smooth and even, without any damage to cloth material.
Durable & reliable
Internal structure has a heavy-duty metal frame. This metal keeps all mechanisms align to give skip-free experience of sewing while maintaining overall durability. Moreover, this machine is durable and lasts for longer years.
Automatic threading
With its automatic threader, machine is threaded effortlessly. Thread cutting is however manual. Furthermore. it helps you avoid frustration and eye strain that occurs due to conventional machines.
Assistant app
Singer has also introduced an assistant app for sewing. Additionally, this app provides new techniques of sewing, how to operate machine and how to maintain it etc.
Automatic button hole
In just 1 step, it creates beautiful button holes.
Included accessories within accessory tray
It comes with important accessories in its accessory tray. These accessories include instruction manual, foot control, power cord, dust cover, spool-pin felt, auxiliary pin, screwdriver, bobbins, needles, quilting guide, lint/seam ripper brush, button sewing-foot, button hole foot, zipper foot and an all-purpose foot.
FUNCTIONS OF DIFFERENT PARTS 
It has variety of built-in stitches. These stitches work best for clothing construction, home décor, crafts etc. There are 4 pressor feet to hold down the materials under needle. It`s all-purpose foot is usable for all types of sewing projects. Moroever, buttonhole foot works for adding ribbon slots, buttonholes and more. Button-sewing foot adds buttons easily. Zipper foot adds zippers, cording, piping and more. Also, it is the best sewing machine that gives you peace of mind through its smooth working.
You can connect to its media site for obtaining tips & tricks from other sewers and experts. SINGER Company offers video tutorials as well. Furthermore, these tutorials cover topics like threading, presser feet operations and installation of bobbin. Decorative & satin stitches are now easy to do up-to 6mm width to give a bold and pronounced look to your fabrics. There are 3 positions for needles. You can thus adjust position for individual workings like topstitching, cording, inserting zippers etc. Additionally, another amazing function is automatic reversal of needle and reinforcing of stitches. Stitch length is adjustable by simple turning of dial. Also, all these functions make it an all-in-one sewing machine with variety of stitching benefits.All these features makes it one of the best singer sewing machines of 2023.
Pros
It is also a durable and solid machine
It works on all types of fabrics and gives beautiful stitches
With 1,100 per minute stitching speed, it gives detailed stitches
It is an easy sewing machine for use
Can be used for handling heavy fabrics and automotive upholstery
It is a basic, well-made machine
There are 3 needle positions to adjust needle according to your angle
Presser foot is adjustable
You can mount it on table or in cabinet
It is consumers` choice as have been seen from customer reviews
Comes with 25 years warranty offer
It comes with 2 years limited warranty of electrical and limited labor warranty of 90 days
Cons
It easily works out with heavy fabrics and gives smooth result. Being heavy duty it is specifically designed for upholstery type fabrics.
If you want a machine to do fancy work, computer stuff or embroidery, this will not suit you. For other sewing needs it is top selling sewing machine.
WHY IT IS ONE OF TOP SELLING IN SINGER BRAND
It is one of the best-selling sewing machines in category of heavy duty sewing machines. When you own this machine you will start an exciting and adventurous journey towards easiest sewing. In addition, its instruction manual contains complete details about each machine part, how to use, replace foot etc. and how to maintain it. Moreover, it is not noisy and loud unless some disruption occurs due to thread bunch accumulated beneath. In a nut shell, with its innovative features and functions, it out performs competition.
You can compare top sewing machines with respect to their structure and functions. End result will be in favor of
Singer 4423 heavy-duty sewing machine
. Whether it is simple sewing or one which involves complicated stitches, this machine works best. In conclusion, buying this sewing machine will make your life easier.