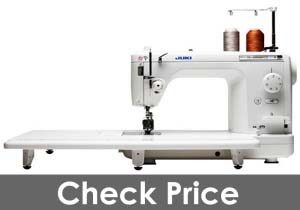 JUKI TL-2000Qi is professionally designed sewing and quilting machine that will surely impress you with its variety of features and specifications.  JUKI TL-2000Qi sewing and quilting machine provides highly efficient sewing that eases you in clothes stitching of all sorts as well as quilting. You can use it to do denim hems. Though the sleek and powerful JUKI sewing and quilting machine has only a straight stitch capability, the stitching neatness is always excellent.
JUKI TL-2000Qi – Strong, Solid and Sleek Sewing and Quilting Machine
JUKI TL-2000Qi sewing and quilting machine is noiseless and does not produce vibration or bounce even when its speed is high. JUKI TL-2000Qi sewing machine imparts an excellent foot control to enable you to move on whatever speed you like. Though unlike most of the sewing and quilting machines, the throat of JUKI TL-2000Qi is not as wide but it is perfectly designed and you do not need to use a long arm to control the fabric. You find it quite comfortable for making quilts with its perfect height and throat space. You don't face any problem in thread trimming on the machine, even when you do not see the bobbin thread. The knee lifter lever supports you during working and saves your time.
JUKI TL-2000Qi sewing and quilting machine accessories include three types of feet; a regular, walking and free motion foot. It also includes some bobbins and a screw driver, a little oil container and easy feed switch to lift or drop the feed dogs. Additionally, the accessories also include the table to ease you in preparing quilts. Such a comprehensive gear is hardly possible in sewing machines of other known brands.
Technical Specifications
Dimensions: 17.8 x 8.6 x 13.8 inches
Sewing speed: 1,500 sti/min
Stitch length Max: 6mm
One pedal operation
Supporting feet for all sorts of stitching and quilting
Supported with an extended bed table to enhance your convenience
LED lights to ensure proper light on the sewing area
Pros of JUKI TL-2000Qi Sewing and Quilting Machine
JUKI TL-2000Qi is capable of sewing upholstery, canvas, sunbrella up to nine layers
Equipped with polarized plug to reduce the risk of electric shock
For the smooth functioning of its parts, the machine contains six oiling points.
JUKI TL-2000Qi  can help you make beautiful topstitches with stitch length up to 6mm
Various threads can be used from the standard to top stitching thread
Free-hand embroidery and patterns are possible
Sturdy and affordable sewing and quilting machine
Supported with a fine thread cutter by foot, gives a feel like a commercial model
Plenty of throat space that is absolutely perfect for all quilts sizes
No fear of skipping stitches with this heavy duty sewing and quilting machine
It can accommodate larger quilts easily
Cons of JUKI TL-2000Qi Sewing and Quilting Machine
Being a full rotary hook machine, JUKI TL-2000Qi won't sew properly unless you have the capability to adjust top thread and bobbin tension exactly.
It has a complex internal structure with plenty of computer parts and sensors.
JUKI TL-2000Qi is not supporting for novices but work perfectly for expert sewers
JUKI TL-2000Qi sewing and quilting machine proves worth every penny! Its merits prove it to be the best functional machine yet the price of JUKI TL-2000Qi is quite affordable. If you look after your machine, proper dusting and oiling various parts, the machine can go a good long time with you and enjoy an excellent stitching and quilting experience.